Tzu Chi Q&A
A Glimpse into the Missions and Spirit of Tzu Chi
The purpose of education
is to impart not only knowledge,
but also moral character and propriety.
1. How did Tzu Chi start its mission of education?
When Tzu Chi Hospital in Hualien opened in 1986, it was very difficult to recruit nurses in eastern Taiwan. Moreover, during those years, indigenous girls from poor families in eastern Taiwan were often sold into involuntary servitude. To solve both problems at the same time, Master Cheng Yen set up a nursing college in 1989, providing free nursing education to indigenous girls so they could train to become nurses.
In the following years, Tzu Chi further set up a university, secondary schools, elementary schools, and kindergartens in Taiwan, completing an education system from preschool to doctorate programs in 2000.
2. What are the core values of Tzu Chi's schools?
All schools set up by Tzu Chi strive to instill moral values, virtues, character and propriety in their students so as to help them develop correct views and conduct. At the same time, the school motto shared by all of Tzu Chi's schools―loving-kindness, compassion, joy, and equanimity―is mindfully woven into the academic and extracurricular activities for students at all levels of Tzu Chi's schools. Through these efforts, it is hoped that the students will learn to benefit others with a sense of mission and contribute to the greater good of the world in the future.
3. Apart from passing on knowledge and professional skills to students, how else do teachers at Tzu Chi's schools guide their students?
Based on the core values of Tzu Chi's schools, the teachers not only encourage their students to contribute what they've learned to society, but also guide them to abide by common decency, take care of their daily living, and nurture compassion for others.
For example, all Tzu Chi students are taught to have proper table manners, decent attire, and respectful behavior. At school, they are asked to help with serving food, washing dishes, cleaning the campus, and tidying up their classrooms and restrooms. During their field trips, they'll visit hospitals and homes for children or senior citizens as well as take part in other volunteer services, such as street or beach cleanups. When disasters strike, they'll be encouraged to raise funds for those affected. In learning of children in need in other parts of the world, they'll also collect and donate stationery and other supplies to them.
| | | |
| --- | --- | --- |
| Once a month, students from Tzu Chi's schools in Hualien visit a low-income senior home to bring the residents warmth and care. (Hsu Jung-hui) | Tzu Chi elementary students in Tainan, Taiwan experience sorting recyclables first hand at a local Tzu Chi recycling station. (Zhuang Hao-min) | Children from Tzu Chi's kindergarten in Tainan, Taiwan sell the vegetables they grew to collect donations for Syrian refugee children to receive an education. (Yang De-you) |
4. What are Tzu Chi moms and dads?
Tzu Chi moms and dads are Tzu Chi volunteers who "adopt" students of Tzu Chi's schools and care for them as if they were their own children. They provide support and guidance to the students, playing the roles of mentor, counselor, and friend.
5. What is the silent mentor program of Tzu Chi University?
Silent mentors are people who donate their bodies to Tzu Chi University's medical college for use in anatomy class or surgical simulation training. These body donors teach medical students and doctors without words. That's why they're referred to as "silent mentors."
6. How many people have signed up for Tzu Chi's silent mentor program?
As of 2019, nearly 40,000 people had signed up to donate their bodies to Tzu Chi, while 343 bodies had been used in anatomy class and 609 in surgical simulation training.
7. Why are Tzu Chi University's medical students required to visit the families of body donors before their anatomy classes begin?
By visiting the families of body donors, the students are able to learn more about the lives of the body donors and, because of this, feel connected to them as if they truly knew each other. Later, when the students practice on the body donors, they'll be more likely inspired to treat them as real patients with love, respect and gratitude. Years later when they become doctors, it is hoped that they'll care for their patients with the same sense of love, respect and gratitude.
8. Do Tzu Chi's schools have partnerships with other schools outside Taiwan?
Since 2001, Tzu Chi's schools have been establishing partnerships with schools in other parts of the world. In 2018 alone, Tzu Chi University, Tzu Chi University of Science and Technology, and Tzu Chi's senior high schools had either established sister school partnerships or conducted exchange programs with schools in Japan, South Korea, China, the Philippines, Thailand, Malaysia, Singapore, Indonesia, the U.K., and the U.S.
9. Does Tzu Chi have schools in other parts of the world?
As of 2018, Tzu Chi had set up 109 educational institutions in eight countries: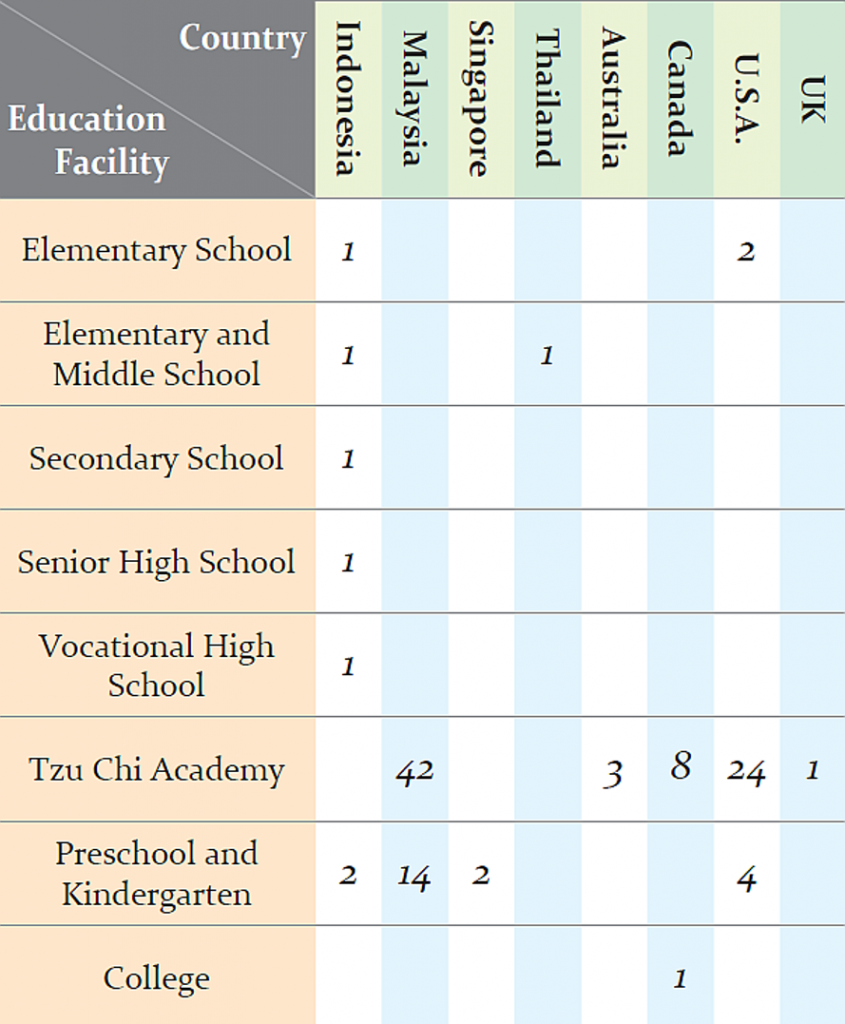 10. What is a Tzu Chi Academy?
A Tzu Chi Academy is a weekend school set up by Tzu Chi offices overseas. These schools teach their students Mandarin and share Chinese culture and wholesome values with them through programs on flower arrangement, tea ceremony, recycling, community service activities, and Master Cheng Yen's aphorisms. As of 2018, there were 78 Tzu Chi Academies in the U.S., Canada, Australia, the U.K., and Malaysia.
11. How many schools has Tzu Chi helped build around the world?
As of 2019, Tzu Chi had built 232 schools in 16 countries and regions around the globe. Most of the schools were rebuilt after they were damaged by natural disasters or simply because they were too dilapidated to use, while others were built for children in impoverished areas.
12. What is Tzu Chi's tuition aid program?
Master Cheng Yen often says that education cannot wait. Upon learning of students in need from school teachers or during their visits to impoverished families and to Tzu Chi's care and aid recipients, Tzu Chi volunteers will provide tuition aid to these students to help them complete schooling. In 2019, 37,664 students in 23 countries and regions around the world had received tuition aid from Tzu Chi.

In some countries, Tzu Chi volunteers also organize after-school tutorial sessions for students in need, pay for their computer classes and other extracurricular activities, or provide breakfast, stationery, books, uniforms, and transportation expenses to them.

 

Tzu Chi collegiate volunteers from the University of Texas at Austin help children from underprivileged families with their studies. (Huang Fang-wen)

 

Tzu Chi volunteers in Taichung, Taiwan, together with local government officials, present tuition aid to students from families in need. (Zhou Shi-long)