Tzu Chi Q&A
A Glimpse into the Missions and Spirit of Tzu Chi
Giving is like drawing water from a well;
as water is drawn, more will flow into the well.
In the same way, it is by giving that
blessings continue to flow in.
1. What is the core spirit of Tzu Chi's charitable work?
Master Cheng Yen believes that everyone shares the same great compassion and selfless love as the Buddha's and has the capacity to give. Therefore, Tzu Chi's charitable work is not only about providing relief to those in need, but even more about awakening the innate goodness in people. To this end, apart from inspiring the rich to give, Tzu Chi also encourages the poor to do what they can to help those worse off than them. Through giving, everyone will become wealthy spiritually no matter if they are rich or poor materially.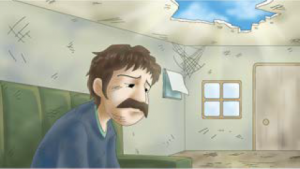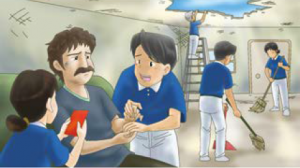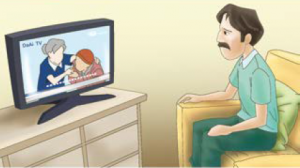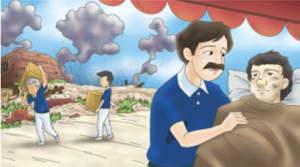 2. How does Tzu Chi decide to provide aid to someone and for how long?
Upon learning of people in need, Tzu Chi volunteers will pay them a visit to better understand their conditions and see if they've received any form of aid from the government or other charity groups. After assessment, Tzu Chi will then decide what type of aid to provide to people based on their individual needs. 
3. What types of aid does Tzu Chi provide to people?
(1) Long-term care and financial assistance for the less fortunate, such as the poor and ill.
(2) Regular support and care to those who do not need financial aid but require emotional support or guidance, such as the elderly living alone, people with a disabled or ill family member, and those who have lost their loved ones.
(3) Care for people in institutions, such as nursing homes, schools for the disabled, children's homes, prisons, and juvenile detention centers.
(4) Short-term crisis aid to people who experience a natural disaster, accident, or sudden misfortune.
The aid includes money for basic living needs, tuition assistance for children, medical care, home repairs, and help with funeral arrangements. Depending on people's conditions, sometimes these cases will become the recipients of Tzu Chi's long-term care and financial assistance.
(5) Large-scale disaster relief, such as providing those affected with comfort and care, hot meals, emergency cash, material aid supplies, and medical treatment. In case of a major disaster, Tzu Chi volunteers will help with cleaning up affected areas and assess the disaster conditions to determine whether mid- or long-term aid projects, such as rebuilding damaged schools or building permanent houses for disaster survivors, are needed.
4. How many permanent houses has Tzu Chi built for disaster survivors and the poor around the world?
As of 2019, Tzu Chi had built 18,964 houses in 15 countries and regions around the world. Before people move into their new homes, Tzu Chi volunteers will prepare "housewarming gifts," which may include furniture, electric appliances, kitchen utensils, food supplies, blankets and items of daily necessities, based on their needs.
5. What are Tzu Chi's winter aid distributions?
Tzu Chi's winter aid distributions are held to support the needy through the winter.
After Tzu Chi was founded in 1966, it began to give out aid supplies to the needy once every month. In 1969, at the monthly aid distribution right before the Chinese New Year, Tzu Chi prepared additional aid supplies, new year gifts, and a reunion meal to wish its aid recipients a happy Chinese New Year. Since then, this special aid distribution has become a regular event every year. As it is held before the Chinese New Year, which falls in winter, it is usually referred to as the winter aid distribution. Over the years, the event has spread across Taiwan and to other parts of the world.
Apart from winter aid distributions, before major holidays, such as Thanksgiving, Christmas, the end of Ramadan, or other important festivals in countries where Tzu Chi volunteers live, the local volunteers will bring aid supplies and gifts to those in need to wish them a happy holiday.
Tzu Chi's first winter aid distribution in 1969 benefited more than 200 people in 40 families. (Tzu Chi Foundation)

Tzu Chi volunteers in Florida, USA bring gifts to a daycare for children from low-income families and wish them a merry Christmas. (Tzu Chi Miami, Florida)

(Tzu Chi Foundation)

Tzu Chi volunteers in Jordan give out aid supplies to the needy in time for them to celebrate the end of the holy month of Ramadan. (Tzu Chi Jordan)
6. How are Tzu Chi's winter aid distributions conducted?
Every year, before winter comes, Tzu Chi volunteers across the world will visit those in need from door to door to see what aid they may need to tide them over the winter. After assessment, the volunteers will then make a roster of the needy, purchase supplies, and hold distribution events or personally bring the supplies to people. In some countries, such as Japan, Canada, the U.S., Australia, and New Zealand, Tzu Chi volunteers give out winter aid supplies not only to low-income families, but also to the homeless. After the Syrian Civil War broke out, Tzu Chi volunteers also hold winter aid distributions for Syrian refugees. In 2019, Tzu Chi held winter aid distributions in 29 countries and regions around the globe, benefiting 161,137 families.
7. How many countries have benefited from the rice distributions held by Tzu Chi?
Since 2003, Tzu Chi has been distributing the rice provided by Taiwan's Council of Agriculture to people in need around the world. As of 2019, 17 countries had received the rice through Tzu Chi, namely South Africa, Lesotho, Eswatini, Zimbabwe, Mozambique, Botswana, Sierra Leone, Indonesia, the Philippines, Myanmar, Cambodia, Iran, Jordan, Sri Lanka, Honduras, Haiti, and Sint Maarten.
8. Apart from providing aid and care to those in need, what else does Tzu Chi do to lift people out of poverty and help them stand on their own two feet?
Besides providing supplies, financial aid, and emotional support to those in need, Tzu Chi volunteers also do what they can to help them learn a skill and earn a living.
For example, in South Africa, Tzu Chi volunteers not only set up sewing classes and other vocational training centers for the local Zulu people, but also went to homes for the physically challenged or orphaned children to teach them how to garden and farm.
In Indonesia, Tzu Chi volunteers taught the students of a Muslim boarding school to collect recyclables and, with the money from selling recyclables, hire professionals to teach them bakery and farming.
In the Philippines, Tzu Chi volunteers in Zamboanga established a prosthesis manufacturing and rehabilitation center and trained those who had once received free custom prostheses from the center to learn the skill of making prostheses.
Tzu Chi volunteers in South Africa organize vocational training classes to teach the local women how to sew and make handicrafts. (Liao Mei-ling)

(Tzu Chi Foundation)(Tzu Chi Foundation) (Tzu Chi Foundation)

Tzu Chi volunteers in Indonesia teach students of Al-Ashriyyah Nurul Iman Islamic Boarding School how to grow vegetables to support themselves. (Hadi Pranoto)

After receiving free prostheses from Tzu Chi prosthesis manufacturing and rehabilitation center in Zamboanga, Philippines, Rico has learned the skill to make them and is now a technician at the center. (Michael Xiao)
9. How do I inform Tzu Chi about someone who is in need?
You can contact a Tzu Chi office near you. For information about Tzu Chi offices around the world, please visit
https://bit.ly/440XqxN
.