The Green Approaches of Tzu Chi Schools
By Yeh Tzu-hao (葉子豪)
Translated by Wu Hsiao-ting (吳曉婷)
Photos courtesy of Tzu Chi Senior High School (慈大附中)
The Green Approaches of Tzu Chi Schools
By Yeh Tzu-hao (葉子豪)
Translated by Wu Hsiao-ting (吳曉婷)
Photos courtesy of Tzu Chi Senior High School (慈大附中)
Energy use soars when summer heat waves hit. How can we balance human comfort and energy conservation? Reducing emissions isn't just a slogan for teachers and students in Tzu Chi schools—it's a way of life.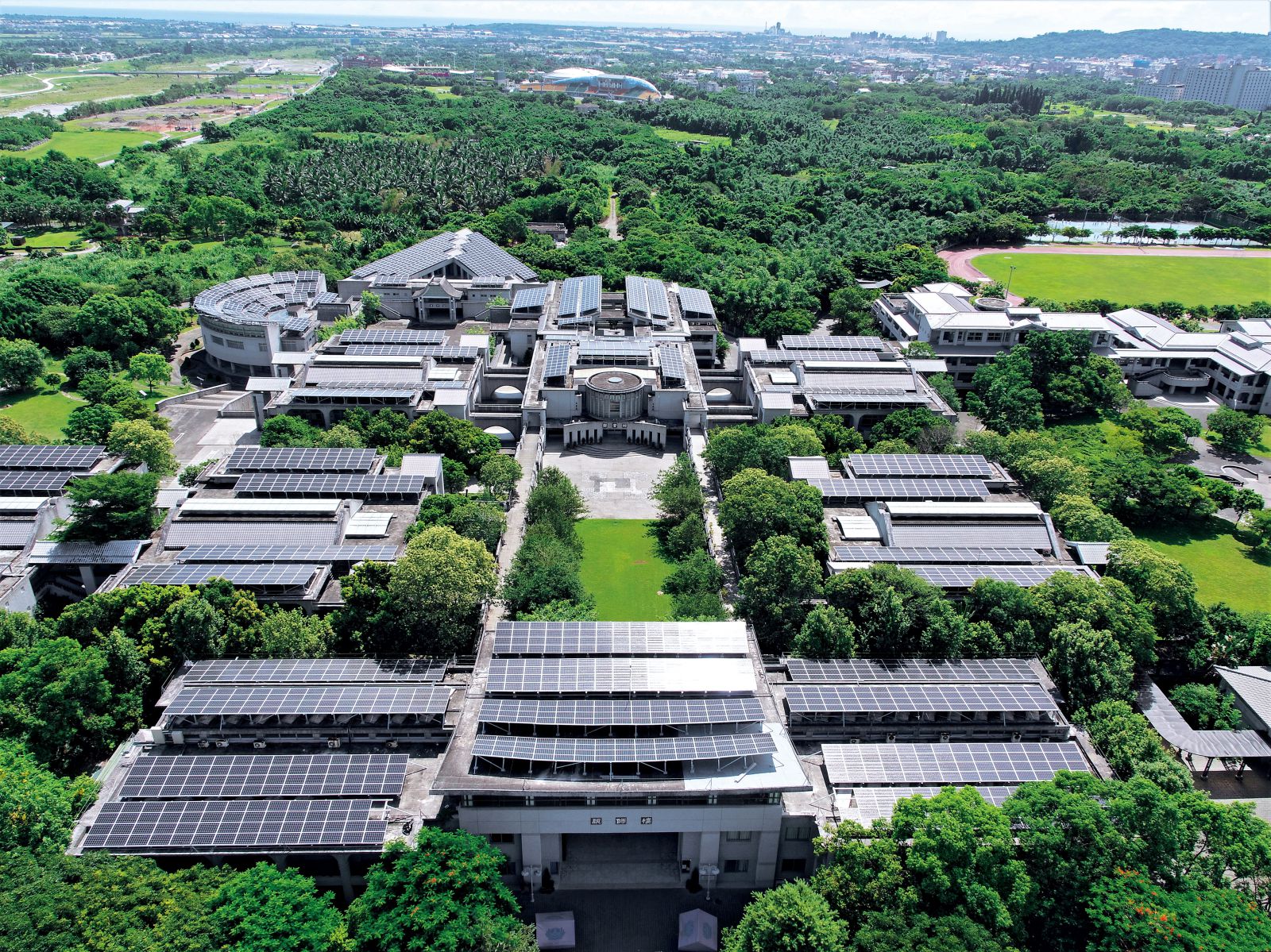 Residential and commercial buildings account for half of all global energy use. Air-conditioning (AC) is a major contributor to greenhouse gases. How to balance users' needs and environmental protection is a challenge.
"Global warming is really making itself felt," said Lo Wen-jui (羅文瑞), the president of the Tzu Chi University of Science and Technology (TCUST) in Hualien, eastern Taiwan. "It's so hot. Both the dormitories and classrooms are very hot."
Despite the sweltering summer heat, TCUST and Tzu Chi University, also in Hualien, were the last among the colleges and universities in Taiwan to install extensive air-conditioning on campus.
In 2016, TCUST helped organize the annual joint entrance examination for Taiwan's two- and four-year tech colleges. It was also serving as one of the test sites. All test sites for the exam were at the time required to be equipped with AC, so when testing officials visited the school and discovered that most of the classrooms on campus did not have AC, they asked President Lo to address the issue. This was the impetus for installing campus-wide air-conditioning.
Administrators at TCUST had heard that students in other schools had forgotten to turn off the air conditioners in their classrooms when they left after a class, thus leaving the machines running for the rest of the day. They thus decided to adopt a "user pays" principle from the very beginning: teachers and students need to first insert a prepaid card to use the AC in a classroom or dormitory room. When there is no more money on the card, there will be no more air-conditioning for them. Because of this measure, the school's teachers and students are very conscious of their use of the cooling system on campus, thus greatly helping conserve electricity related to air-conditioning use.
Because the prepaid cards didn't apply to the use of the electric lights and fans in the classrooms, it was easier for students to forget to turn those off. It was not unusual to see the lights still blazing and the fans still whirling without a single person in the classroom. "That's why we installed timers in the classrooms," President Lo explained. "We set it up so that the lights and fans switch off on their own after an hour, which is about the length of a class period."
The president is very satisfied with this foolproof mechanism, designed by the university's General Affairs Department. New students enroll in the school every year, and while they might not know the school's environment or regulations very well, such a mechanism effectively wards off instances of oversight and saves electricity.
To further cut energy use, TCUST, already 33 years old, has picked up its pace to retire old, energy-inefficient pieces of equipment and replace them with greener alternatives. The efficacy of these efforts shows. Wei Tzu-kun (魏子昆), the head of the school's General Affairs Department, said: "Our school installed more than 700 air conditioners. With that number, there should have been a noticeable spike in our electricity use, but there's been an increase of just under five percent."
TCUST even helps produce energy, along with Tzu Chi University and another Tzu Chi school in Hualien: Tzu Chi Senior High School. The three schools leased their roof space to a solar energy company to have solar panels installed. A total of 2,409 solar panels were installed in TCUST, capable of producing 800,000 kWh of electricity per year. Tzu Chi Senior High School generates over a million kWh of electricity per year this way. All of this contributes to Taiwan's efforts to develop green energy sources and achieve net zero emissions.
Green architecture
According to the United Nations, greenhouse gas emissions from air-conditioning and refrigerators are expected to increase 90 percent by 2050 compared to 2017. Besides actively developing clean energy sources, green architecture, which helps cut the consumption of energy and other resources and produces less waste, is another good way to cope with this.
The construction of Tzu Chi Senior High School began in July 1999. It was designed to be eco-friendly. Double outside corridors, elevated roofs, skylights, and other features were planned to reduce the need for air-conditioning and illumination. A rainwater recycling system and a small sewage treatment plant were included to conserve water. A lot of trees and other greenery were planted.
About two months after construction began, Taiwan was hit by a powerful tremor known as the 9/21 earthquake. Following the quake, Tzu Chi started a project to help rebuild schools destroyed or severely damaged in the quake. Tzu Chi Senior High School incorporated some of the design concepts for these schools into its own construction too. For example, interlocking bricks were used to pave roads and vacant areas in the school. Pavements built with such bricks are more environmentally friendly than ones made of solid slabs of concrete, because the bricks allow rainwater to permeate into the ground.
Tzu Chi Senior High School opened in Septem­ber 2000. The double outside corridors—meaning classrooms flanked on each side by a corridor—increased shade and reduced exposure to sunlight, and the elevated roofs and ceilings facilitated air flow. Whether in the classrooms, dormitories, or staff offices, the natural ventilation made it easier to keep cool.
The rainwater recycling system and interlocking paving bricks conserve a lot of water resources for the school and the local community. Rain landing on the greenery and paving bricks seeps directly into the ground. Principal Lee Ling-hui (李玲惠) said, "Our school is located in the middle of the Melun River alluvial fan and covers an extensive area of 16 hectares [40 acres]. Based on the average annual rainfall locally, the precipitation our campus retains is the equivalent of 30 percent of the source water for Hualien City's tap water supply."
The school has more trees than people, making it a green campus, literally. According to estimates from the school administrators, Tzu Chi Senior High School has over 3,000 trees. The principal said, "When people visit the school, they will find all the buildings grey—as is typical of a Tzu Chi building. It's only later I came to realize why: the grey, pebble-dashed exteriors of the buildings are meant to make the color of nature stand out. We humans shouldn't compete with nature."
The trees do more than contribute their color in making the campus greener—they also are essential in the fight to stave off global warming. This is another way they make the school "greener."
Vegetarianism
Another aspect that makes Tzu Chi Senior High School eco-friendly is the small amount of garbage produced by the faculty and students, even though the school campus encompasses not just a high school but also a junior high and an elementary division as well as a kindergarten. The small amount of garbage is possible thanks to the thoroughness with which teachers and students reclaim recyclable items. Take the elementary division for example: all the garbage produced by the more than 560 students and faculty members for an entire school year can be contained in only two dumpsters. Government sanitation workers do not need to visit the school every week to collect garbage, but only when the school administration notifies them to do so.
As is typical in other Tzu Chi schools and facilities, only vegetarian meals are served at Tzu Chi Senior High School. Teachers eat the same vegetarian food as the students, and they explain to the youngsters the benefits of such a diet.
"Methane is a greenhouse gas and has a warming potential 24 times that of carbon dioxide," Principal Lee explained. "When cows and sheep burp or pass gas, they release methane into the Earth's atmosphere. All the children in our school understand the connection between the livestock industry and greenhouse gas emissions." Environmental benefits aside, teachers also help students understand that eating vegetarian helps protect life.
The school administration makes a point of explaining to potential students and parents why the school is meatless. "We don't want them to feel that we are forcing such a diet on them," Ms. Lee said. "Instead, we explain the reasons behind the choice of such a diet so that they can come to identify with it."
In response to the international trend to achieve carbon neutrality, the school made preliminary calculations of the emissions teachers and students help cut by eating vegetarian. Eating a vegetarian meal can reduce greenhouse gas emissions by 0.78 kilogram (1.7 pounds). Given that the school had 2,097 students and teachers in 2021, it was calculated that their vegetarian lunches alone helped cut emissions by 64.5 tons a year, 1.7 times those absorbed by Da'an Forest Park. (Da'an Forest Park, covering an area of 25.9 hectares [64 acres], is an ecological park with abundant greenery located in Taipei, northern Taiwan.)
However, the efforts by a single school alone were not enough to stop global warming. As it got warmer and warmer in Hualien, the architectural design to increase shade and facilitate natural ventilation was no longer adequate to help the school withstand the heat. Air-conditioning was installed in Tzu Chi Senior High School in September 2019, making the school one of the last private secondary and elementary schools in Taiwan to install AC. Like TCUST, Tzu Chi Senior High School adopted a "user pays" principle in the use of air-conditioning.
"One time, some students who lived in the same dormitory room complained that they had used up the 300 NT dollars [US$10] they had prepaid for AC in just three days," said Xie Jun-ming (謝俊銘), a team leader in the school's General Affairs Department. "They asked how that was possible, so I printed out a list detailing their AC use to show them." Xie explained that when the school had air-conditioning installed on campus, they introduced smart electricity meters into the school as well. The daily energy use in the school's classrooms and dormitories were tracked on computers in the General Affairs Department. When Xie checked the records, he found out that while students in other dormitory rooms usually didn't turn on their air-conditioning until ten at night and turned it off at two or three in the morning, those students turned on their air-conditioning as early as seven at night and didn't switch it off until six in the morning. "They also set their AC temperature very low," Xie added. "It caused the compressor to start up more often, thus leading them to use up their quota more quickly."
Students are vigilant of their use of air-conditioning because of the "user pays" system. Wang Pei-ru (王佩茹), a teacher in the elementary division, said with a smile: "Sometimes we lend our classrooms out on weekends or holidays to be used as test sites by people from outside the school. When that happens, students are always quick to remind personnel in the General Affairs Department to not chalk the air-conditioning used on that day up to them."
Responsible global citizens
Even the way the school celebrates its anniversary is eco-friendly—students and teachers clean up streets in Hualien City on that day. They have done this for several years, starting when the school, now 22 years old, turned 18. By picking up garbage and sweeping up streets, children use their hands and actions to protect the environment and pay back the community.
The school has also developed a systematic environmental education that begins in kindergarten and continues through elementary to senior high.
"The children in our kindergarten are still very young," Principal Lee said. "We help them build basic concepts of ecology by leading them to, for example, experience the beauty of the natural environment." Such exposure to nature decreases their fear of animals such as earthworms and nurtures their love for the Earth. Children in the elementary division are guided to have a general idea about the entire ecosystem and the current situation of the environment and natural resources. Students in junior high are led to think about the relationship between humanity and the sustainability of the environment, while high schoolers are taught to fulfill their role as responsible global citizens via social participation.
The school's environmental practices and approaches have for years been integrated into both daily activities and formal classroom education. This year, their efforts won recognition from Taiwan's Environmental Protection Administration: the school earned a National Environmental Education Award.
"Award or not, we regard it an inescapable responsibility to practice environmentalism and promote environmental education," said Principal Lee. She recalled what a parent once shared with her: that when his son was going abroad to study, he checked the luggage he had packed and found out that he had packed reusable bowls and chopsticks to take abroad. The parent cheerfully observed that this showed how his son was a veritable graduate of Tzu Chi Senior High School.
Principal Lee reiterated her school's mission to promote environmental education. She said that her school will be more than willing to share their practices and experiences in this area with people from all sectors of society. She also welcomes other schools, organizations, and individuals to share with the school their experiences in protecting the environment. This way, everyone can work and learn together for a better Earth.