An Entrepreneur's Effort to Promote Vegetarianism
To encourage his factory workers to go vegetarian, Lin Kun-wang provides them with free vegetarian meals every day. What obstacles has he encountered? How has he tackled them and persisted in his effort to promote vegetarianism?
A Foreign Bride's Wish
Zheng Yanhui from China has been supporting her family all by herself since her husband fell ill. She hopes to get a motorcycle license so it's easier to find a job and take her husband to hospital. However, being illiterate, how is she going to take the test and get a license?
A Bone Marrow Donor's Love
Miss Lin, a matched bone marrow donor, is going to get her fourth human growth hormone injection today, and then she is ready to have her bone marrow harvested tomorrow. Why is she willing to go through so much trouble to help others?
Guardians of the Needy
Sixty-five-year-old Ye Mei-yu suffers from cervical cancer and lung cancer. Due to diabetics, her husband is undergoing dialysis treatment. Tzu Chi volunteers visit them once a month, and today the volunteers have one more task to do — repair the front door of their house.
Dedicated to Recycling
Lai Xiu-e lives alone all by herself in Tanzi, central Taiwan. Despite having a stroke before, she now serves as a Tzu Chi recycling volunteer and collects recyclables along the streets from dawn to dusk every day. She even provides her home for other volunteers to come and sort recyclables together.
The Beauty of a Grateful Heart
In Pingdong, southern Taiwan, a brother and sister are both Tzu Chi's tuition aid recipients. Their father has passed away, and their mother left home and never came back. Grateful for Tzu Chi's help, they go to the local Tzu Chi office to volunteer whenever they have free time.
A New Lease of Life
A single mother of two boys, Lu Si-yuan contacted Tzu Chi for help at the lowest point of her life. Since then, Tzu Chi volunteers have been caring for the family of three and giving Lu whatever support she needs. She works three jobs to support her boys and also helps with Tzu Chi's recycling work whenever she can.
A Woman of Resilience
Forty-eight-year-old Yao Ling-hui is a local of Penghu, an archipelago off the west coast of Taiwan. To her, working in windy winter conditions is a familiar experience. After her husband succumbed to cancer, she has to do odd jobs to support the family and take care of her ailing mother-in-law.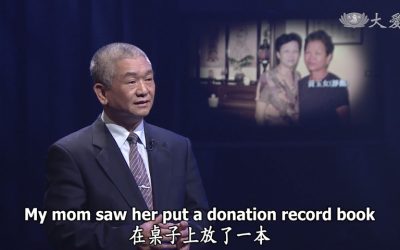 Being the son of the first Tzu Chi volunteers in Taidong, Wang Shou-rong grew up watching his parents helping others all the time. Years later when he moved to another town, he also started Tzu Chi's work and became the first seed of Tzu Chi there.
E05.Winter Aid Distributions
In 1969, Tzu Chi conducted its first winter aid distribution for the needy in Hualien, Taiwan. Over the years, the event has spread across Taiwan and to other parts of the world.
E06.Revisiting Aid Recipients
Revisiting Tzu Chi's aid recipients are crucial for Tzu Chi volunteers to find out how people's lives have improved and what other help they may need.
E07.The Free Clinic
In 1972, Tzu Chi set up a free clinic to provide medical services to the poor twice a week. The clinic remained in service until Tzu Chi opened its first hospital in 1986.
E08.Year-end Blessings Ceremony
Every year, Tzu Chi will hold Year-end Blessings Ceremonies and invite everyone to see off the past with gratitude and welcome in the new year with sincere piety. What's the origin of this practice?
Online Platforms that Pass On Love
Through online platforms, more and more used assistive devices, after being repaired and refurbished, can be put to good use to help those in need.
A Community for Seniors Amid COVID-19
Amid the coronavirus pandemic, a district in Taipei, Taiwan continues to offer meals and activities for its senior residents as a way to look after them.
Support for Health Care Workers Amid COVID-19
The top management of a hospital in Taipei, Taiwan offers support and encouragement to its medical staff who are facing additional workload and emotional stress during the pandemic.
Crossing Barriers
In 2015, over a million people fleeing from wars and conflicts arrived in Europe, unfolding a refugee crisis in the continent. On their arduous journey, these refugees struggle to overcome all kinds of barriers in search of a promised land of peace and safety.
The Sky in Aceh, Indonesia
In 2004, a massive earthquake struck off the coast of Indonesia, triggering a tsunami that claimed about 228,000 lives. Over ten years later, how have people in the affected areas rebuilt their homes and lives?
A Gift from the Heart
Erratic climate conditions have brought about more disasters with ever increasing frequency and intensity. Thanks to modern technology, disaster relief efforts have also diversified to tackle different situations.
Sing Along, Tacloban!
To help the people of Tacloban, Philippines recover from Typhoon Haiyan, Tzu Chi volunteers launched a cash-for-work program to clean up the disaster areas and built houses and schools for those affected.
Hello Again, Myanmar!
After Cyclone Nargis caused severe devastation in Myanmar in 2008, Tzu Chi volunteers went to provide relief and give out rice seeds to affected farmers. Even to this day, Tzu Chi is still there.