Tzu Chi Q&A
A Glimpse into the Missions and Spirit of Tzu Chi
Humane doctors respect patients as teachers
and treat them as family.
1. How did Tzu Chi start its medical mission?
When visiting the poor in Tzu Chi's early years, Master Cheng Yen came to realize that many people became poor due to illness or vice versa, so she concluded that, to end poverty, illness needed to be taken care of first. Therefore, in 1972, Tzu Chi set up a free clinic in Hualien to provide medical services to the poor twice a week. The free clinic remained in service until the first Tzu Chi Hospital opened in 1986.
2. How many hospitals does Tzu Chi have in Taiwan?
All around Taiwan, Tzu Chi has set up seven hospitals in Guanshan, Yuli, Hualien, Taipei, Taichung, Dalin, and Douliu, as well as a clinic in Jiayi.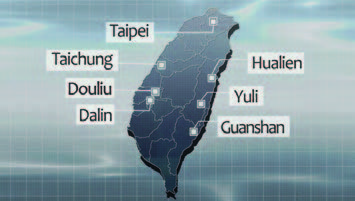 3. What is the primary value of Tzu Chi hospitals?
Tzu Chi hospitals value humane, whole-person care. Apart from providing integrated medical services, they also strive to care for patients with love and respect while also supporting their emotional and spiritual needs so as to inspire hope in them and enhance their lives.
4. What are the special features of Tzu Chi hospitals?
Tzu Chi hospitals are not run for profit, so they treat the poor, in Taiwan and from abroad alike, for free. After these patients are discharged, if they live in Taiwan, the hospital staff will visit them at home for follow-up care and support. For those from abroad, after they return to their countries, local Tzu Chi volunteers will continue to care for them and arrange further treatment at local hospitals if need be.
| | | |
| --- | --- | --- |
| To serve their surrounding communities, Tzu Chi hospitals frequently hold health-related talks for local residents. Yuli Tzu Chi Hospital even starts its outpatient service at 6 a.m. to accommodate early-rising farmers in town, while doctors from Guanshan Tzu Chi Hospital regularly go to the mountain areas to provide the indigenous people with medical care from door to door. | All year round, there are volunteers serving in Tzu Chi hospitals to help care for patients and their family members. (Chen Xue-qin) | Douliu Tzu Chi Hospital holds a health session at a local community center to show people how to stretch and strengthen their muscles and bones. (Zhang Guo-hui) |
5. Does Tzu Chi have medical facilities in other parts of the world?
Yes. Tzu Chi has set up hospitals, clinics, dialysis centers, or free clinics in the U.S., Malaysia, the Philippines, Singapore, Indonesia, China, Turkey, Australia, and Canada.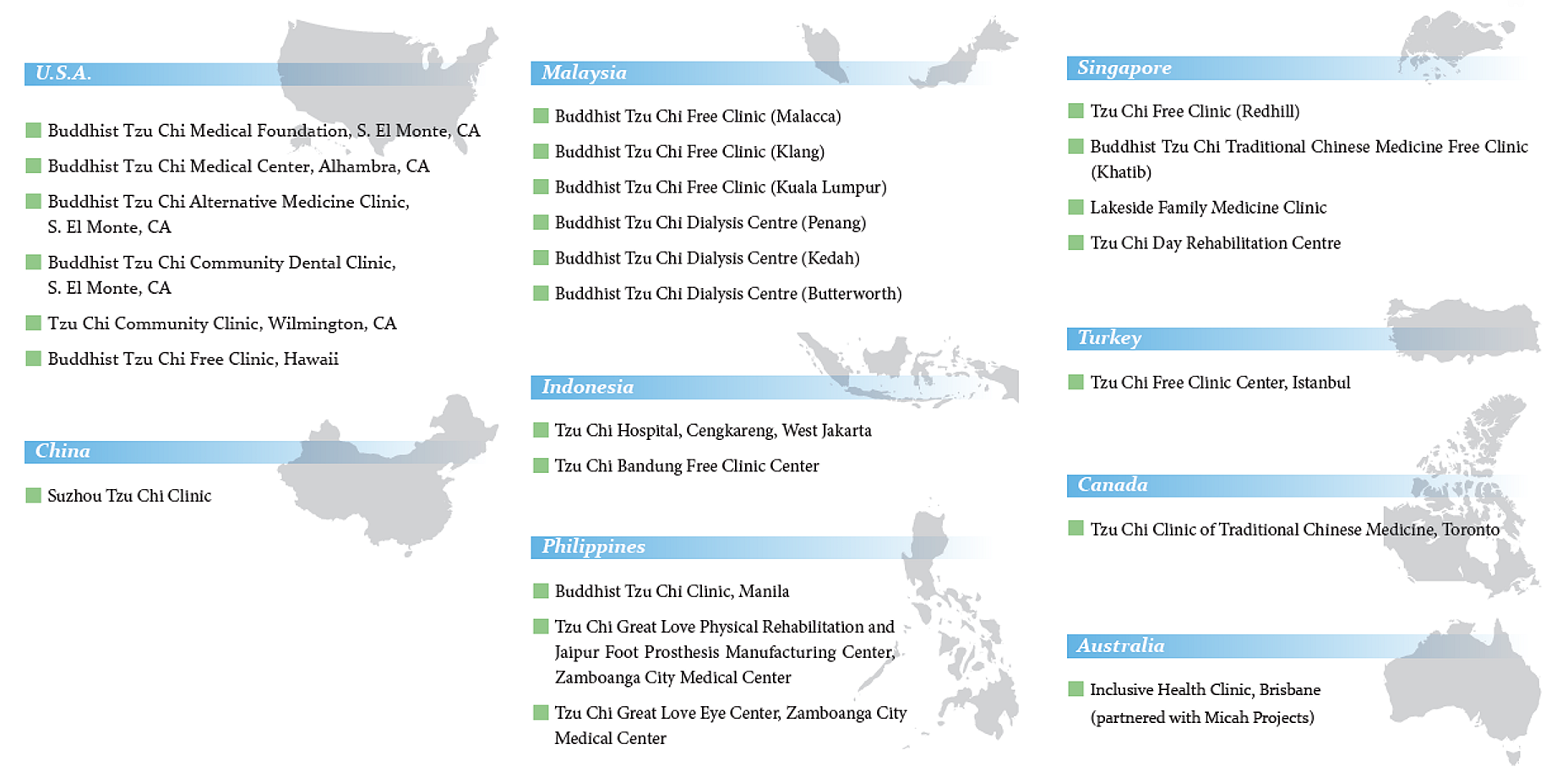 6. Whom do Tzu Chi's free clinics serve?
Tzu Chi's free clinics and medical outreaches serve disadvantaged members of society and those who are affected by disasters or live in out-of-the-way places where medical resources are insufficient.
7. What is TIMA?
TIMA, or Tzu Chi International Medical Association, is a global network of licensed doctors, nurses, medical technicians, and pharmacists who volunteer with Tzu Chi. Including non-medical volunteers, there are now 14,755 TIMA members in 18 countries and regions around the world. In their countries of residence, they routinely conduct medical outreaches and make home visits to serve those in need of medical attention. In times of disaster, war, or crisis, they'll come together to provide medical relief to those affected. As of 2019, TIMA members had provided free medical services to over 3.2 million people in 57 countries and regions.