April 21, 2019
Sowing Good Karmic Seeds
in People's Inner-Field
April 20, 2019
Being a Supporter of the Dharma
and Sowing Seeds of Love
April 19, 2019
Tzu Chi Recycling Volunteers:
Cultivating Blessings and Wisdom
April 18, 2019
Remembering Tzu Chi's
Humble Beginnings
April 17, 2019
Paving the Tzu Chi Path
with Unwavering Dedication
April 16, 2019
Shouldering Tzu Chi's Missions
in Indonesia
April 15, 2019
Remembering Tzu Chi's History
and Passing on the Dharma Lineage
April 14, 2019
Reducing Our Desires to
Have A Calm and Tranquil Heart
Stories Told by Dharma Master Cheng Yen
The Benevolent Deer King
Man claims himself to be the most intelligent of animals. But is man also the most loving creature on earth? Watch the story and see how animals share the same Buddha nature as human beings'.
The Heavenly Being and the Ghost
A heavenly being saw a ghost lash a pile of bones and curse furiously at them. So she went over and asked the ghost what he was doing…
Kindness Begets Kindness
In ancient China, there was a wealthy family where the wife had tuberculosis. Her husband sought the help of a famous doctor who suggested that the wife eat the brains of 100 sparrows…
The Purple Golden Alms Bowl
In Ming Dynasty, there was an elderly monk who was very well cultivated. When the king of hell noticed that the monk's life should have come to an end, he sent two hell wardens to bring the monk back to hell…
The Boy Who Found the Wellspring
A little faith goes a long way. This is a story of a little boy whose faith saved the people in his village from dying of drought.
The Loving Spiritual Cultivator
A spiritual cultivator went to the mountains and sat down to meditate. As he sat there, a mother bird came and laid eggs on the long hair he piled up on top of his head…
The Fisherman's Trip to
the Sea Palace
To thank a fisherman, Taro, for saving its life, a turtle took him to the Dragon King's palace undersea. Taro spent three days in the palace, but when he returned home, it turned out that decades had passed…
The Black Rat and the White Rat
To flee from wolves, a hunter grabbed a vine hanging down from a tree into a well. As he was descending into the well, he saw snakes at the bottom of the well and two rats gnawing at the vine he was clinging to…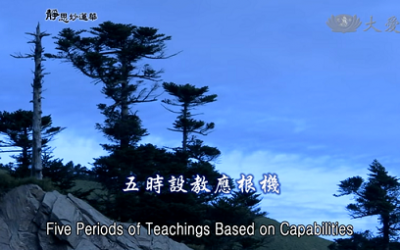 ABOUT USOur StoryAwardsOur ImpactFinancial AccountabilityDA AI TVSpirituality Documentary Health & Lifestyle Arts & Culture News DramaDA AI e-RADIOThe Power of the HeartPUBLICATIONSTzu Chi Monthly Rhythms Monthly Tzu Chi Bimonthly Tzu Chi Q&AMORE Tzu Chi...
Essence of the Bodhi Mind
April 13, 2019
Drops of Water
Form an Endless Ocean
April 6, 2019
Grateful to Give
March 30, 2019
As One Foot Steps Forward,
the Other Must Let Go
March 23, 2019
Changing the World Begins
at the Dining Table
March 16, 2019
Transforming Knowledge
into Wisdom
March 9, 2019
Protecting Yuli – Yuli Tzu Chi Hospital 20th Anniversary
March 2, 2019
Strategies in Sharing Joy
February 23, 2019
Problem-free Communication
by Dharma Master Cheng Yen
One time, a volunteer was serving me tea. When I was going to take the cup, she held on to it. So I asked, "Is anything wrong?" She replied, "I'm sorry. I just noticed that the cup is chipped." I examined the cup and said, "It looks like a fine cup to me." 
If we don't focus on the chipped part, the cup is still perfect. It's the same with people. If we don't focus on faults, we'll see only the good in others.
We often hear people say, "He is a good person. It's just that he has a quick temper." When we lose our temper, we look ugly and leave a bad impression on others. So, getting angry is actually punishing ourselves with the mistakes of others. It's like temporary insanity. Who will suffer because of that?
When we try to throw a handful of sand at others against the wind, who will get the sand? When we do that, the wind will blow the sand back to us, not to the others in front of us. So, when we slander or speak ill of others, we tarnish our character and end up harming ourselves only.
Speaking ill of others is like throwing sand against the wind—it will come back at us.
In life, we should not fuss over petty things or compare with others. If we fuss, we might end up losing everything. And if we like to compare with others, we'd often feel dissatisfied and resentful. So, fussing and comparing are two things that we should never do.
Wondrous Words, Wondrous Dharma